Home » Surgical Instruments, Medical Surgical Supplies & Equipment » Cartilage Scissors » Cartilage Scissors
Cartilage Scissors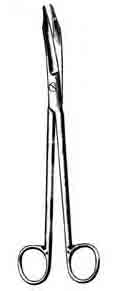 Item# 475-507FSI
Retail Price: $118.80
Your Price: $89.10
Unit:
single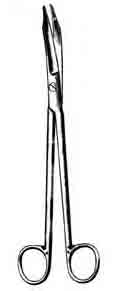 Item# 855-507FSI
Retail Price: $99.00
Your Price: $74.25
Unit:
single
Cartilage is a dense connective tissue found in the joints, rib cage, ear, nose, bronchial tubes and between inter-vertebral disks found in both humans and animals. As a dense, connective tissue, cartilage's fibrous make-up and elastic qualities make it a difficult material to cut. This is why the Cartilage Scissors from Medical Supplies & Equipment Company are an important tool in any physician, surgeon, or veterinarian's cabinet.
In instances where doctors or surgeons need to penetrate or cut through this extremely dense and elastic fiber, they rely on the precision and accuracy of cartilage scissors to handle the job as efficiently as possible, without damaging the surrounding bone or tissues. The use of Cartilage Scissors can also be implemented when soft bone tissue must be cut. These tools can work in both instances, and guarantee success for any physician who uses them.
Cartilage Scissors from Medical Supplies & Equipment Company are equipped with versatile, 8 inch blades, and are available in either serrated or smooth styles, which offer flexibility during a multitude of cutting circumstances. In addition to offering flexibility and reliability with our state of the art, stainless steel scissors, our Cartilage Scissors also offer our customers great value. Available at significant discounts off the retail price, our scissors are not only affordable, but indispensable, as they will prove from their repeated use and ease of cutting ability.
Medical Supplies & Equipment Company knows the importance of having tools such as Cartilage Scissors and other surgical operating scissors readily available at all times. This is why we offer extensive varieties of our high quality scissors at significant discounts to our customers every day. When it comes to providing your office or hospital with the best and most reliable scissors and cutting tools, look to Medical Supplies & Equipment Company for our wide selection of surgical scissors , which are guaranteed to perform most cutting tasks efficiently and consistently, every time.
All of our high quality Cartilage Scissors are made of fine quality stainless steel, and are built to last. Choose from our vast selection of discount scissors to find tools that work for your physicians and your budget. Medical Supplies & Equipment Company has even taken the guesswork out of buying medical supplies and equipment by providing our customers brands that are hand-picked from the world's best manufacturers and we offer those brands to them at significant discounts every day—so you don't have to sacrifice quality for great value.
When it comes to finding the best medical supplies and equipment necessary to perform your job consistently and confidently, trust Medical Supplies & Equipment Company to supply your hospital or office with the tools you need, without breaking your budget. If you're looking for the finest Cartilage Scissors, trust the professionals from Medical Supplies & Equipment Company.
Whatever your requirements, you can find what you are looking for today in our online inventory. If you have any questions or need assistance, call us toll-free at 1-877-706-4480. Our staff is ready to assist you.
Please review our other scissors selections below: