Home » Surgical Instruments, Medical Surgical Supplies & Equipment » Cervical Forceps » Cervical Forceps
Cervical Forceps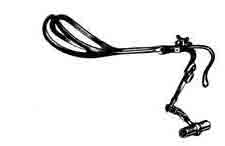 Item# 106-049FSI
Retail Price: $1,735.36
Your Price: $1,360.14
Unit:
single
MSEC understands the importance of early cervical cancer detection. To meet the needs of this important medical care niche, we carry cervical forceps in the Tischler-Kevorkian, standard Tischler, and Baby Tischler lines. Our cervical forceps feature a wide variety of sizes, shaft lengths, types of grip, and jaw features designed to maximize the chances of early cancer detection and give patients the best chance at full recovery. MSEC provides cervical forceps made from only the finest and most durable stainless steel on the market. We update our inventory on a regular basis, and we are always on the lookout for designs that offer improved patient care opportunities. Read more about what we have, and remember to check frequently for regular updates, or give us a call at 1-877-706-4480.
If you are among the majority of our customers who prefer the Kevorkian and Tischler-Burke cervical forceps, look no further than here. We carry three lines of "Baby" Tischler cervix-holding forceps to meet any need you have in this arena. We have the standard model featuring a 9" shaft and 2.3X4.2mm bite. This model comes with a pistol grip and is perfect for standard biopsies. We also have a more advanced model in the same length featuring a set screw locking mechanism and a gold plated handle. We also inventory the Burke Modified Biopsy Punch cervical forceps in a slightly smaller size. This cervical forceps measures 8 ½", features a locking mechanism like those of the previous models and impeccable stainless steel manufacture. The smaller size of the jaws delivers a smaller biopsy sample and causes less pain and bleeding. Many of our customers prefer these cervical forceps for biopsies on hyper vascular pregnant patients.
If you need a larger biopsy area, take a look at our larger Tischler models. For example, our standard Tischler cervical forceps features the same gold-plated, pistol grip and set screw-locking mechanism as our Baby Tischler line but delivers a larger 3x7mm bite. Knowing the popularity of all Tischler cervical forceps, we also carry the Tischler-Kevorkian and Tischler-Morgan lines as well. Our Tischler-Kevorkian Biopsy Punch forceps measures 8 ½" in length feature and features a reliable locking mechanism. Our Tischler-Morgan cervical forceps is slightly larger, featuring a 9" shaft, a 3x7mm bite, and a pistol grip handle. For precise and critical biopsy procedures, we carry Tischler cervical forceps that measure 10 ½" and grip with pointed jaws. Visit our online inventory for specific details and graphics of these choices to see which Tischler model best suits your needs.
MSEC makes it a point to supply surgical instruments manufactured from the highest quality and most durable stainless steel. If you are looking for a specific model and don't see it listed just yet, keep in mind that we frequently update our selection of cervical forceps and are happy to help you find exactly what you need if you need to ask for more information. Just give us a call at 1-877-706-4480. Our staff is always willing to help.