Home » Surgical Instruments, Medical Surgical Supplies & Equipment » The Pros and Cons of Disposable Nitrile Gloves » The Pros and Cons of Disposable Nitrile Gloves
The Pros and Cons of Disposable Nitrile Gloves
Item# 115VSMMD
Retail Price: $137.88
Your Price: $105.47
Unit:
1500/case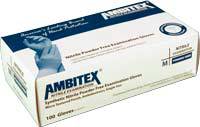 Item# 002GLNXAINM
Retail Price: $27.31
Your Price: $20.29
Unit:
100/box
Examination gloves made from different materials are each designed for specific types of activities and uses. Knowing what type of glove is best for the job at hand starts with learning a bit about different aspects of each glove option. Disposable nitrile gloves are fast becoming one of the most commonly used gloves in medical facilities and for home health services. They are very resilient to punctures and tears, plus they are also comfortable to wear. This provides a great combination for anyone requiring that extra layer of protection. Since disposable nitrile gloves are perfect for quick pull on and off, they are also a great addition to any patient care room.

Disposable nitrile gloves, like all types of surgical or examination gloves, are designed for a single use. Therefore, nitrile gloves are relatively inexpensive, although they are slightly more expensive than latex examination gloves. For anyone with allergies to latex, disposable nitrile gloves are an excellent choice. However, people with highly sensitive skin may have a chance of developing a mild rash or irritation upon wearing these gloves. Occasionally, as with a latex reaction, the allergic response to the nitrile gloves can be significant. It is actually not the gloves themselves that cause the problem, rather it is a reaction to the chemicals used in the production of the gloves. Any healthcare professional that notices redness, swelling, or a burning sensation of the skin, as well as trouble breathing, facial swelling, or watering eyes when around nitrile gloves should be tested for allergies to the product.

The thin skin, or protective film, on disposable nitrile gloves is actually more durable than any other gloves currently on the market. This is not to say that the punctures, cuts and tears won't occur with disposable nitrile gloves. However, they are highly resilient to common wear. With their higher level of elasticity that allows the gloves to snuggly fit against the surface of the skin, they are all much less likely become damaged than looser fitting gloves. In addition, the compounds that make up nitrile gloves have elastic memory that slightly molds to the wearer's hand even after the position of the hand is moved. This means that finger joints tend to not sag and bunch during wear, an important consideration for comfort and fit. For some, the slightly tighter fit takes a bit of getting used to and many opt to wear one size up from the size of latex gloves they normally wear.

Disposable nitrile gloves are ideal for all types of general use, as well as examinations. With their thinner surface, they allow a great sense of touch for the wearer, and aren't cumbersome or bulky on the hands. They are also comfortable to wear for long periods of time and don't have that stiff or immovable feel that is often associated with latex gloves. At the same time, they don't have the loose and somewhat plastic feel associated with vinyl examination gloves. With this good balance, disposable nitrile gloves have really become popular in all types of medical examination uses.

MSEC remains dedicated to providing the very best and the very latest in medical supplies and equipment. We never cease to be on the lookout for the latest innovation that will benefit both our many clients and the patients they dedicate their lives to caring for. If you have any difficulty finding your choices in our vast inventory, call our customer service at 1-877-706-4480 to speed up your order or to make a special request. We are always happy to help you.