Home » Surgical Instruments, Medical Surgical Supplies & Equipment » Dressing Forceps » Dressing Forceps
Dressing Forceps

Item# 659-324FSI
Retail Price: $78.60
Your Price: $58.95
Unit:
single
Item# 017-04-SGFSI
Retail Price: $15.65
Your Price: $9.89
Unit:
single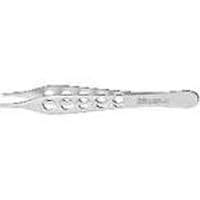 Item# 044-024FSI
Retail Price: $70.80
Your Price: $53.10
Unit:
single
Dressing Forceps are a specialized form of tissue forceps used to care for wounds and remove dressing. Many dressing forceps look like tweezers with either curved or Eye straight beaks. A few models have smooth tips for special purposes. Our inventory features dressing forceps with a range of curvatures specific to the type of surgery you are performing. We have smaller eye forceps for ophthalmologists, standard thumb forceps ranging from small 5" models to 8" in length, and a variety of dressing forceps with special designs and angles for sensitive operations.
Ophthalmologists are always happy to learn that we carry dressing forceps specifically designed for eye surgery. We have standard eye dressing forceps in straight, half curved, and curved serrated beaks. These forceps feature extra fine tips and measure four inches in length. We also carry eye dressing forceps in the Iris line. These forceps also measure 4" in length with extra fine tips and 1 X 2 teeth ratios. We also have the popular Adson Micro Adson Dressing Forceps, with straight handles, and 5mm jaw placement.
If you are looking for dressing forceps with special features, we can supply you with these as well. We also have a number of Cushing designs manufactured with tungsten carbide tips. These models measure approximately 7" in length and feature a variety of unique jaw and handle configurations. In angled jaw designs we have the Wilde Ear Dressing Forceps, measuring 5.5" in length, and we also inventory tying forceps with angled tips and 5mm tying Platform.
For surgeons that require dressing forceps designed for general purposes we offer a vast array of thumb forceps in standard designs. Our online inventory also features a substantial selection of Potts-Smith Forceps instruments. These are large, thin forceps made stainless steel. Sizes range from 7" - 9-1/2" in length.
Whatever your requirements, you can find what you are looking for today in our online inventory. If you have any questions or need assistance, call us toll-free at 1-877-706-4480. Our staff is ready to assist you.