Home » Surgical Instruments, Medical Surgical Supplies & Equipment » Speculums » Speculums
Speculums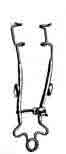 Item# 053-147FSI
Retail Price: $239.09
Your Price: $184.44
Unit:
single
Item# 273-147FSI
Retail Price: $66.00
Your Price: $49.50
Unit:
single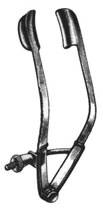 Item# 553-147FSI
Retail Price: $198.20
Your Price: $148.65
Unit:
single
When it comes to performance, you can rely on Medical Supplies & Equipment Company's high-quality assortment of Speculums to provide you with the finest tools and the greatest value you can get when it comes to buying medical supplies you can trust. From ear, nose and throat operations to renal, vaginal or infant examinations, we have the precise and proper instruments to perform these and other operations and examinations, comfortably and affordably.

Performance, reliability and cost are three of the deciding qualities of choosing medical supplies and Speculums to perform critical or routine surgical or medical procedures or examinations. When performing these, or related tasks, it is necessary to have the proper tool at the right time, but it is also necessary to have precision tools at discounted prices. Medical Supplies & Equipment Company offers not only great value, but great discounts on the best supplies and tools you and your patients would expect you to have when proceeding with your normal everyday practices. It is for this reason that you should shop in our huge selection of high-quality products that are now available at affordable prices.

Browse through our wide selection of Eye Speculums, available in 1.75 inches with Large or Wide blades, or find our 3.75 inch variety with Small, Medium, or Large blades. We carry state-of-the-art Nasal and Septum Speculums, which measure 6 inches with 2-inch to 4-inch blades. Medical Supplies & Equipment Company carries a number of Ear Specula, in Chrome, Size 1, 2, 3 and 4 or Oval Ear Specula, size 1, 2, 3, and 4, some of which are also available in bulk, so you will have the right Speculum when you need it every time.
Medical Supplies & Equipment Company carries Rectal Speculums , available in Small, Medium and Large. We also carry high-quality, stainless steel Vaginal Speculums, floor grade, in Small, Medium or Large, available in bulk quantities for added value. When it comes to savings, how can you afford to shop anywhere else for all of your medical supplies and equipment from this day forward?
All of our high-quality products are available at a significant savings from the retail price. We assure you will receive the best quality products at low prices every day. We have an unbelievable selection of the tools and supplies medical professionals need to perform their jobs successfully and efficiently every time—without paying high prices.

Whether you're shopping for a brand new, high-quality Eye Speculum with 3.5in Fenestrated or Solid Blades with Suture Posts for durability and reliability, or you're looking for a hard-to-find Infant Speculum or Hirschman Anoscopes, you are sure to find all of the above and more, at prices that are hard to find elsewhere.
Whatever your requirements, you can find what you are looking for today in our online inventory. If you have any questions or need assistance, call us toll-free at
877-706-4480. Our staff is ready to assist you.