Home » Surgical Instruments, Medical Surgical Supplies & Equipment » Surgical Scalpels » Surgical Scalpels
Surgical Scalpels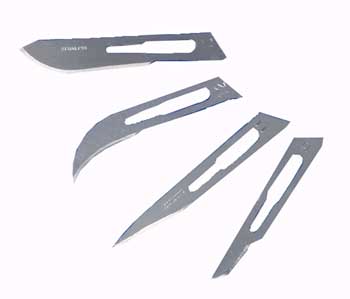 Item# 51151SDMMD
Retail Price: $39.81
Your Price: $31.53
Unit:
100/box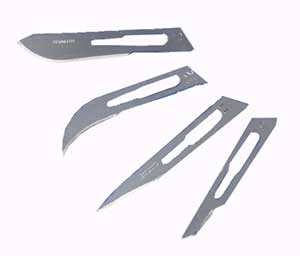 Item# 21051SDMMD
Retail Price: $56.80
Your Price: $42.40
Unit:
100/box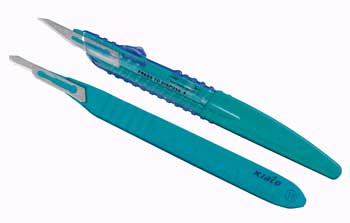 Item# 51351SDMMD
Retail Price: $33.26
Your Price: $25.31
Unit:
10/box
Medical Supplies & Equipment Company knows the value of precision and sterility in surgical instruments and equipment when it comes to performing surgical procedures. This is why we offer top-of-the-line surgical tools and equipment to our customers. Our precise and sterile surgical scalpels represent the finest instruments we have to offer for your operating needs.
Our high-quality surgical scalpels have stood the test of time. More than 30 years of research and engineering have gone into the production of our world standard surgical scalpels. Time has proven that our scalpels are the number one choice of the leading hospitals and surgeons worldwide. Our unmatched quality, trust and flexibility guarantee we will provide you with the best tools and accessories to perform successful operations and procedures time and time again.
Choose from our best-selling disposable surgical scalpels, or try our re-usable scalpel blades and scalpel handles, available in 22 different sizes, made from the best materials your money can buy. Disposable scalpels have many benefits when compared to replaceable surgical blades. Our disposable surgical scalpels feature an ergonomically designed, ABS plastic handle for better feel and precision. Our scalpels are also available with a safety lever for retractable blades to further reduce accidental slippage. All of our disposable scalpels blades are stainless steel, for cleanliness and sterility. Using disposable scalpels helps surgeons limit the chance of infection caused by bacteria and other contaminations. These tools also prevent the likelihood of cross-contamination because they are meant for one-time use. Would your patients expect anything less?
When it comes to surgical scalpels, no one offers a better value than Medical Supplies & Equipment Company. Not only are surgical scalpels from Medical Supplies & Equipment Company trusted and reliable, but our prices give our customers an excellent value and significant savings, when compared to other surgical instrument suppliers. All of our disposable scalpels, blades and handles are available in bulk quantities, which relate to more money that you save.
Our surgical scalpels offer not only a great value, but our extensive collection of scalpels and blades offers unmatched flexibility. Choose from our wide selection of surgery scalpels, from #10, 11, 12, 15, 20, 21, 22, and 23. As well as our scalpel, we offer a wide selection of removable, Feather Brand and Fine Brand scalpel blades, which are available in #10, 11, 12 , 15, 20, 21, 22, 23 and 24 in stainless steel or our removable carbon steel blades for our disposable scalpels. In addition to surgery scalpels, we also offer knife handles, straight and fluted, available in all sizes, including 3L, 3LA, 4L, 60 and 70 .
Whether your goal is to save time and money by using disposable surgical scalpels, or to uphold the integrity of your patients by using a reliable surgical instrument that you trust, you are sure to find it in our wide selection of world-class sterile surgical scalpels and accessories from Medical Supplies & Equipment Company.