Home » Surgical Instruments, Medical Surgical Supplies & Equipment » When To Use Vinyl Examination Gloves » When To Use Vinyl Examination Gloves
When To Use Vinyl Examination Gloves
Item# HL001GFMD
Retail Price: $18.06
Your Price: $15.65
Unit:
100/box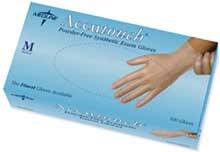 Item# 670291SDMDM
Retail Price: $92.94
Your Price: $77.47
Unit:
1000/case
Understanding the intended use of vinyl examination gloves can help you select tasks and jobs that are perfectly suited to these lightweight, low cost type of gloves. Vinyl gloves are most commonly used outside of medical facilities, especially in the food handling and janitorial professions. They are designed to fit very loosely on the hand, and to provide protection from contact with liquids and solids that are non-corrosive. Vinyl examination gloves are great for any type of work with mild chemicals or with most types of disinfectants and cleaning products.

Vinyl examination gloves can be powdered or non-powdered, depending on your preference. Since they don't have a snug fit like latex or nitrile gloves, vinyl examination gloves don't typically cause the moisture retention that can be a problem with the other types of gloves. In addition, they have no rubber proteins, and are a perfect match for anyone that has a reaction to latex. It is important to keep in mind that they are also much thinner and much more prone to tearing, puncturing, and ripping than latex or nitrile gloves, so they are not recommended in high risk areas.

For home health care professionals or nurses working with patients without fear of body fluid contact, vinyl examination gloves are a perfect option. They are low cost, and can be used as needed and disposed afterwards. They are also a great way to help keep the skin on your hands in great shape, since you can avoid the multiple washes between patients. Instead, you simply toss out the gloves and slip on a new pair before working with the next patient. If you make this a habit, you also don't have to worry about cross contamination, as your hands are always protected and clean. However, proactive organizational infection control protocols may require hand washing prior to and after the use of gloves.

Unlike latex or nitrile gloves, vinyl examination gloves are not used in sterile environments simply because they have too high a risk for tears, punctures and rips during procedures. They can be a great addition to any type of home health care or nursing kit, just be sure to also include more durable latex or nitrile gloves if any type of high-risk situation involving body fluids is likely to occur.

Vinyl examination gloves are also perfect for use when assisting patients and providing personal services such as bathing, assisting with toileting, or any other type of personal care. While they aren't as tight fitting as latex or nitrile gloves, they are much thinner, allowing for an additional sense of touch. Since they are so thin, they typically doint feel artificial to the patient, making this a good option for these light duty types of tasks.

As with other types of gloves used in the health care industry, there are different sizes of vinyl gloves. The best option is a slightly snug fit, not too loose and definitely not tight or restricting. Gloves that are too small for the hand, particularly vinyl examination gloves, will simply rip or pull apart, leaving your skin exposed to potential contaminants and materials.
MSEC remains dedicated to providing the very best and the very latest in medical supplies and equipment. We never cease to be on the lookout for the latest innovation that will benefit both our many clients and the patients they dedicate their lives to caring for. If you have any difficulty finding your choices in our vast inventory, call our customer service at 1-877-706-4480 to speed up your order or to make a special request. We are always happy to help you.