Home » Surgical Instruments, Medical Surgical Supplies & Equipment » Wire Cutting Scissors » Wire Cutting Scissors
Wire Cutting Scissors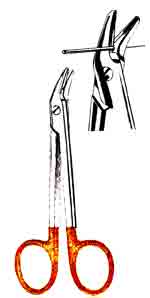 Item# 517-183FSI
Retail Price: $127.08
Your Price: $96.74
Unit:
single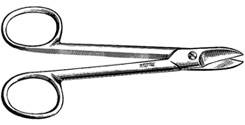 Item# 403-228FSI
Retail Price: $57.00
Your Price: $43.39
Unit:
single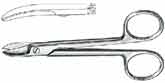 Item# 353-228FSI
Retail Price: $52.10
Your Price: $39.67
Unit:
single
Wire Cutting Scissors are an indispensable tool in most hospitals and doctors' offices because of their specific ability to cut through the most delicate, and the most stubborn of materials. We carry scissors designed to handle a wide variety of specific tasks, including first-aid, surgical, dental or post-mortem procedures. One specific application of our scissors is to penetrate through the most difficult or stubborn material, including wire. This is why we offer our selection of the world's most trusted manufacturers of Surgical Scissors, in order to handle even the most difficult of cutting tasks, without having to rely on more expensive or outdated equipment.
Wire Cutting Scissors have a number of practical applications, including the removal of stitches and other corrective devices, in both medical and plastic surgery situations. Whatever the application may be, we are assured to have a pair of Wire Cutting Scissors that will handle the job successfully, time and time again. Browse through our state of the art surgical scissors to find several varieties of Wire Cutting Scissors that are available to you at significant discounts off the retail price—so you don't have to sacrifice great quality for lower prices.
Our high quality Roger Wire Cutting Scissors are available in 4 ¾ inch sizes, and are designed with a signature angle to one side. These medical grade scissors can perform a number of cutting specifications. Available with Tungsten Carbide Blades, with one serrated blade and angled to one side, these scissors are a top performer for many common hospital or doctors' office procedures. Our 4 ¾ inch, curved Wire Cutting Scissors have one serrated blade and one smooth blade, for added maneuverability and reliability. We also carry 4 ¾ inch straight scissors with one serrated and one smooth blade.
All of our surgical scissors are made of the finest quality of materials possible, for easy sterilization and multiple uses. We also hand-pick our manufacturers to guarantee a selection that will offer you comfort, reliability and value from your medical supplies and equipment. What more would you expect from a medical supplier you can trust?
When it comes to your practice, we wouldn't expect you to sacrifice your patients' health for value, so we don't either. We only offer the finest medical supplies and equipment we would want our own doctors, nurses, and surgeons to use. Whether you're looking for Wire Cutting Scissors or other necessary equipment, we assure you that Medical Supplies & Equipment Company will have the right tools you need to perform your job efficiently and successfully every time. Why risk success when you can always find high quality products at discounted prices from Medical Supplies & Equipment Company?
Whatever your requirements, you can find what you are looking for today in our online inventory. If you have any questions or need assistance, call us toll-free at 1-877-706-4480. Our staff is ready to assist you.
Please review our other scissors selections below: