Home » Surgical Instruments, Medical Surgical Supplies & Equipment » Medical & Surgical Disposable Gloves » Medical & Surgical Disposable Gloves
Medical & Surgical Disposable Gloves
Item# 002LXAMM
Retail Price: $12.45
Your Price: $9.96
Unit:
100/box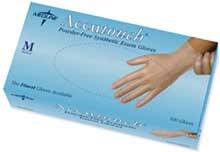 Item# 670291SDMDM
Retail Price: $92.94
Your Price: $77.47
Unit:
1000/case
Item# 670391SDMDM
Retail Price: $104.40
Your Price: $88.06
Unit:
1000/case
There are many requirements for disposable gloves in a medical facilities. The intended use of the gloves will determine the type needed and what should be sought out in them. No matter what type of medical and surgical disposable gloves are purchased, money is always an issue. You will need, high quality durable gloves that are cost effective enough to be disposable. Here at Medical Supplies Equipment Company we have a variety of low priced surgical and medical disposable gloves which will meet the demanding needs of your profession.
For work in a lab, you will likely need chemical resistant options from our selection of medical disposable gloves. These should provide a thick barrier to avoid the skin coming in contact with caustic materials. Most of our selection of chemical resistant gloves are crafted from rubber, which comes at a lower cost than other materials. If you need a set of gloves for tactile work which requires use of fine motor skills, you should opt for the closer fit of surgical disposable gloves. These are cut with closer sizes, rather than one size fits all. Our best-fitting medical disposable gloves are crafted out of neoprene or powder free latex gloves. Both of these choices are powder free. While powder free latex gloves cost less, but continued use of latex products has been linked to developing latex allergies. You should look for in any powder free disposable surgical gloves an anti roll feature and a comfortable fit.
For a barrier to patients, which will not require as close a fit, you will need disposable medical exam gloves. We have several material options in this category. You could use any of our surgical disposable gloves. We also have latex free options for for your medical disposable glove needs. There are vinyl exam and nitrile exam gloves which are both well tolerated by those with latex allergies or sensitive skin. Powdered gloves are easier to put on and remove, but powder free exam gloves might be preferable by those with allergies or psoriasis.
Most of our medical and surgical disposable gloves customers are patients, or they are from clinics or small medical facilities. In those areas, budgets are often extremely tight, but needs are very high. Here at Medical Supplies Equipment Company we understand this. That is why we strive to make the best quality surgical disposable gloves and medical supplies available to you for the lowest cost, and that cost is even lower for those in the medical arena. By signing up for our medical professionals discount you can save even more money. Please allow us one to two business days for processing your request before you order.
If you did not find the medical disposable gloves you are looking for, please post a question to our expert or contact us toll free at 1-877-706-4480, and we will find what you are looking for at the best possible price.
Please review our other medical and surgical disposable gloves below: