Home » Surgical Instruments, Medical Surgical Supplies & Equipment » Umbilical Scissors » Umbilical Scissors
Umbilical Scissors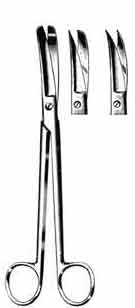 Item# 411-501FSI
Retail Price: $76.60
Your Price: $58.31
Unit:
single
Item# 700-501FSI
Retail Price: $75.30
Your Price: $57.33
Unit:
single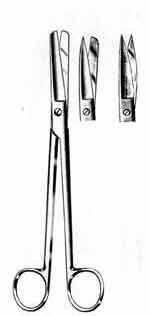 Item# 601-501FSI
Retail Price: $75.30
Your Price: $57.33
Unit:
single

When a mother delivers a child, she expects her doctor use the most efficient tools necessary to her child safely, and with as little pain as possible. It is for this reason Medical Supplies & Equipment Company suggests the use of Umbilical Scissors when applicable, to simplify the difficulties of labor. A tool such as Umbilical Scissors that are specifically designed for the type of material that umbilical cord is composed, are precisely what obstetricians and gynecologists, or OB/GYNs, rely on for childbirth procedures when the proper conditions allow. Because they're considerably safe and gentle when used properly, they greatly improve the efficiency of exhausting labors.
When it comes to buying medical supplies that doctors can trust, look no further than Medical Supplies & Equipment Company for all of your obstetrician and gynecological needs. Our world-class selection of medical supplies and equipment guarantee that we have the right tools doctors and surgeons need in order to perform intensive procedures including childbirth. We carry the top brands doctors want in order to perform labor, including Umbilical Scissors and other tools, and we offer them to you at discounted prices every day, so you don't have to sacrifice quality for value.
Umbilical Scissors are needed in order to sever the umbilical cord during birth, not only to separate child from mother, but to sever the infant's cord that will eventually disintegrate and fall off. Our Umbilical Scissors are built with a unique, curved blade design, to alleviate pressure while performing this procedure. Measuring 4 1/8 inches in length, these scissors are designed to work in even the most delicate of situations, without damaging the surrounding tissues, or—more importantly—the child.
Medical Supplies & Equipment Company knows the true value of success in any hospital or practice. This is why we offer only the world's finest manufacturers at significant discounts off the retail price every day. We know that your patients expect only the finest tools when they undergo any medical procedure, especially labor. For this reason, our high quality Umbilical Scissors and other medical supplies and equipment, are a perfect addition to any hospital or office, either as a replacement for older equipment or as inventory for new ones. We recognize the research and technology that goes into making the world's best medical supplies and instruments, and we strive to bring this research and technology into our selection of state of the art medical and surgical supplies and equipment.
Whether you're looking for state of the art surgical Umbilical Scissors, or are looking to replace other surgical scissors, look no further than Medical Supplies & Equipment Company for only the finest in your surgical and medical needs. Our high-quality scissors are built to last and will assure your success in all of your forthcoming procedures. After using our equipment in your operations time and time again, we can guarantee that you will look to us for all of your medical and surgical supplies needs.
Whatever your requirements, you can find what you are looking for today in our online inventory. If you have any questions or need assistance, call us toll-free at 1-877-706-4480. Our staff is ready to assist you.
Please review our other scissors selections below: