Home » Surgical Instruments, Medical Surgical Supplies & Equipment » Uterine Scissors » Uterine Scissors
Uterine Scissors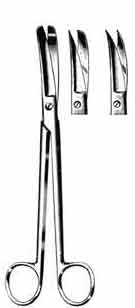 Item# 411-501FSI
Retail Price: $76.60
Your Price: $58.31
Unit:
single
Item# 460-501FSI
Retail Price: $76.60
Your Price: $58.31
Unit:
single
Medical Supplies & Equipment Company is your number one source for obstetrican and gynecological instruments including Speculums and Uterine Scissors. Whether performing routine examinations or complicated hysterectomies or other procedures, doctors and surgeons need the most updated tools and equipment to perform their jobs successfully and with confidence. This is why they look to Medical Supplies & Equipment Company to provide them with the correct tools to perform the most common to the most specific procedures, without budget interference.
Medical tools and equipment from Medical Supplies & Equipment Company offer the best in craftsmanship and value. Tools such as our state of the art Uterine Scissors, offer our customers significant discounts off the retail price, which equals more money that you save on the world's finest equipment. Uterine Scissors have been used in gynecological practice to perform hysterectomies or other vaginal procedures where scissors are needed for many years. Uterine Scissors are available in a variety of sizes and specifications for performing different techniques.
Browse through our world-class selection of Uterine Scissors to find the right scissors for your practice. Our Sims Uterine Scissors are available in several specifications. Each pair measures 8 inches in length, and is made of high quality stainless steel, for durability and reliability each use. Available with straight or curved tips, these scissors are made with two blunt, one sharp and one blunt, or two sharp blades, which provide unmatched flexibility and maneuverability.
Medical Supplies & Equipment Company knows the importance of having tools such as Uterine Scissors and other surgical scissors readily available at all times. This is why we offer extensive varieties of our high quality scissors at significant discounts to our customers every day. When it comes to providing your office or hospital with the best and most reliable scissors and cutting tools, look to Medical Supplies & Equipment Company for our wide selection of surgical and medical instruments and supplies, which are guaranteed to perform most tasks efficiently and consistently, every time.
All of our surgical scissors are made of the world's finest stainless steel and are built to last. These scissors not only provide reliable use time and time again, but their high quality materials maintain precision over a longer period of time, compared to lesser quality products. Choose from our vast selection of discounted scissors to find tools that work for your budget. When it comes to finding the best medical supplies and equipment necessary to perform your job consistently and confidently, trust Medical Supplies & Equipment Company to supply your hospital or office with the tools you need, without breaking your budget. If you're looking for the finest supplies and equipment, trust the professionals from Medical Supplies & Equipment Company.
Whatever your requirements, you can find what you are looking for today in our online inventory. If you have any questions or need assistance, call us toll-free at 1-877-706-4480. Our staff is ready to assist you.
Please review our other scissors selections below: